Sound Communications is an Ohio-based corporation established in 1983. We are a leading integrator of recording-based solutions for business and public entities.
We build on a core of voice and data recording, but also add enhancements like Quality Monitoring, Speech Analytics, and Workforce Management (WFM). Our digital recording platforms include technology from industry leaders like Verint, CallCopy, HigherGround, and Eventide. We are the only Verint-certified Master Distributor and Services Partner for both Audiolog and Impact360, and have been repeatedly selected as Verint Business Partner of the Year.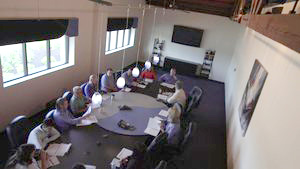 Through our Security Division, Sound Communications develops and installs integrated security solutions that can include intelligent cameras, digital recording, access control, intrusion detection and more. We are also certified resellers and partners for VIQ (digital courtroom and meeting recording), Firetide (wireless mesh networking), Motorola, EV2 and Spectracom (time synchronization solutions). Our systems record video, voice and data in hundreds of facilities throughout the world.
The Sound Communications team includes experienced account managers, certified technical specialists and a skilled project management and professional services team who are all committed to making your project a success. Our management team includes:
Garry Stephenson (Founder and CEO) has more than 20 years of experience in digital recording. He holds a bachelor's degree from Ohio University, and is a Vietnam-era veteran of the U.S. Navy.
Toni VanHorn (Vice President and CFO) has more than 20 years of experience in business and fiscal management. She is an alumna of Bowling Green State University and the University of Cincinnati, having studied Business Administration at both institutions.
Darin Cooper (President and CTO) has more than 18 years of experience in both mid-level business management and digital recording. Darin is an alumni of  the University of South Florida. Darin is nationally recognized for his expertise with advanced recording integrations and serves on the Verint Systems Business Partner Advisory Board.
Our Mission
Sound Communications works to protect the assets your business can't do without: your property, your customers and your employees.
Our Vision
At Sound Communications, we build and sustain strong, mutually-respected and trusted relationships with both our customers and our employees. We do this by consistently providing a satisfying, secure, enjoyable workplace where every employee is valued, and each in turn provides industry leadership and smart, reliable service.
Our Values…
…are very important to us and they make us ADEPT.
A
ccessibility – We promise to be easy to reach, easy to understand, and quick to respond.
D
edication – We don't just sell products. We stay with our customers for the long term with dependable, thorough and accurate service.
E
mpathy – We understand that our customers rely on our knowledge of both ever-changing technology and their individual needs. We pledge to offer support that is friendly, courteous and accurate.
P
ride – We stand behind our product and service. By our words, actions and appearance, we show we are proud to be part of the SCI team.
T
eamwork – We recognize that we serve our customers best when we work together. Our team is made up of people who are the best at what they do, and who strive to bring out the best in each other.