Sound Communications has been in the CCTV, Access Control, Systems Integrations, and Court recording markets for over a decade. While we have had success with this division, we feel as though the name Sound Communications doesn't reflect this other division as well as it could. As a result we have decided to rebrand this part of the company to SCI-Integrated. Customers both future and present will still enjoy the full resources of Sound Communications and there will be no difference in the excellent customer service for which we are known. We have made significant changes to the division and expect that with the change of branding it will help us reach the goals that we have put in place.

Premium security and verifiable evidence are ensured with an Access Control System from Sound Communications. Our state-of-the-art systems and technical expertise provide critical security management solutions for multiple or single facility sites.
Designed and installed to meet your specific security requirements, Sound Communications provides flexible Access Control Systems that can be expanded and upgraded as your company grows or your security requirements change. Integrating a Sound Communications Stationary DVR System will enhance the level of surveillance and authentication by providing a digital recording of all keycard entries and exits. This provides an additional safeguard into any restricted areas of your company.
Sound Communications offers these advanced components: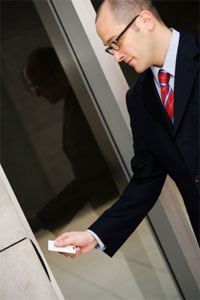 Door Controllers
Access Control Keycards/Fobs
Proximity Readers
Magnetic Door Locks
Bio-metric Technologies
Management Software
Sound Communications understands the critical need to protect your organization's assets and offers the latest in Access Control technology and reliability. You can expect outstanding 24/7 customer support from our knowledgeable technicians from start to finish when you call Sound Communications.