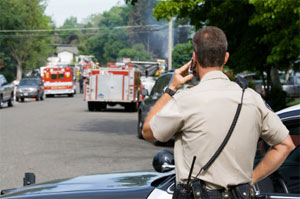 Sound Communication provides the latest technologies to Law Enforcement agencies with our advanced digital audio and video recording and access control systems. These systems, rated as the best safety solution in the industry, offer superior reliability and efficient performance and allow you to manage emergency and public safety situations from a single source. Consultation, comprehensive training and expert 24/7 technical support are available with any equipment purchased from Sound Communications.
Our enhanced Public Safety Center helps you efficiently serve your community by securely recording critical data. This advanced technology brings efficiency to your fingertips and allows you to deliver quick response when managing emergencies.
Our Mobile DVR System is a multi-channel device that features state-of-the-art digital compression that produces the highest quality recordings in the industry. This advanced technology will reliably provide sharp images time after time. With no moving hard drive parts or tapes to wear out, this dependable digital image recording system provides exceptional continuous performance.
Our Mobile Watchdog provides professional, portable security that can be transported and set up easily. Equipped with tilt, pan and zoom capabilities, the digital cameras produce hi-res quality images that is recorded and stored efficiently on a compact flash drive. These cameras can be monitored and adjusted remotely to capture specific activity.
This Stationary DVR Surveillance System provides multi-channeled, high quality digital audio and video recording with advanced digital compression to deliver exceptional clarity that will never deteriorate. Immediate audio and video playback enables authorized personnel to monitor surveillance areas in near real-time video or to review archival recorded images.
Our state-of-the-art Access Control Systems are installed to provide superior security for your organization. Designed to meet your facility requirements, these security systems are very flexible and can be upgraded and expanded at any time.