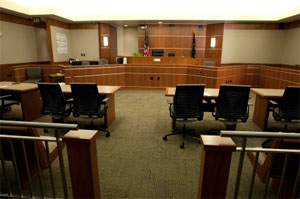 Sound Communications has supplied cutting-edge digital audio and video recording systems for over 25 years. This advanced technology can be cost-effective as it provides indisputable recorded accuracy in multiple courtrooms simultaneously, all recorded on a single source. We also offer state-of-the-art Access Control Systems to ensure security wherever it is needed. Sound Communications provides exceptional customer service from consultation, installation, training to our superior technical support, available to you 24/7.
This Stationary DVR Surveillance System provides multi-channeled, high quality digital audio and video recording with advanced digital compression to deliver exceptional clarity that will never deteriorate. Immediate audio and video playback enables authorized personnel to monitor surveillance areas in near real-time video or to review archival recorded images.
Our state-of-the-art Access Control Systems are installed to provide superior security for your organization. Designed to meet your facility requirements, these security systems are very flexible and can be upgraded and expanded at any time.
Our enhanced Public Safety Center helps you efficiently serve your community by securely recording critical data. This advanced technology brings efficiency to your fingertips and allows you to deliver quick response when managing emergencies.